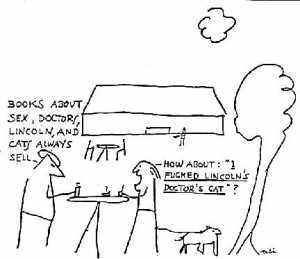 Keith Olbermann Special Comment:
The Four Great Hypocrisies of the Debt Deal


Welcome to Times Square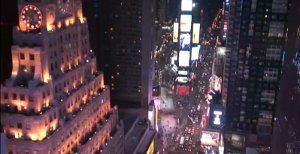 Happy New Year
WHY AREN'T YOU LAUGHING?
Michael Simmons on
THE ONE, THE ONLY, BUDGE THRELKELD
Funny man Budge Threlkeld's death in 2005 was heartbreaking but historically appropriate. Few could match his charisma, innate kindness, and epic wit. He could endear himself to Republican tourists at a Disney World comedy club as effortlessly as if they were a gang of stoned malcontents in a smoke-filled basement in New York City.
more...
Listen to Al Franken's Personal Reminiscence of Budge
Michael Sullivan's
THE SEX LIFE OF ROBOTS
Columns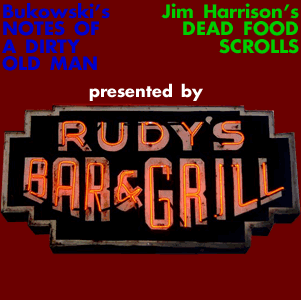 Bukowski's (all new)NOTES OF A DIRTY OLD MAN
What about fame? They ask me. Will fame destroy you? Well now, if I am famous and if it destroys me (meaning my talent) then sixty one years of my life will have gone by without my having sense any of the traps... »
Jim Harrison's THE DEAD FOOD SCROLLS #5
One wonders, doesn't one, why historically we are insufficiently wily in foreign affairs. Without question it is because we do not eat vividly. more... »
Mike Golden's APOCALYPSE WHEN?
He would always notice the spiderwebs."We're smoking them now," he cackled. Which was when I realized the right half of my body was totally paralyzed. "Mine too," he whispered. more... »
WHOSE CONSPIRACY IS THIS, ANYWAY?
Oliver Stone, Lisa Pease and James Douglass
CLUB 86'ed Presents
Mikhail Horowitz & Paul Austin
in SECOND COMING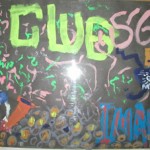 Trailer of the 1987 East Village Film about the return of you know who to the lower east side. more... »


Jane King's NURSE JANE
Two years ago I went to the hospital to visit a sick friend who just so happens to edit this mag, only to find he was being tortured by a sadistic nurse. At the time I had already developed an elaborate theory about nursing as an apt profession for sadists, so I put the booga-booga on the booga-booga she had put on my friend more... »
The Further Adventures of Bart Plantenga's

Confessions of a Beer Mystic #20

Her mind still allows her body to be a dreamscape. And when she flexes the wingtips of her scapula back it forms a voluptuous fissure, an alternate vagina which she urges me to explore with tongue and plum-headed glans — or tomorrow she might offer the inside of a Black Beauty tulip. And this is what she means by "poetry in motion." Or she'll take my scrotum firmly in hand and make the sound of a bullfrog as she squeezes. »
Rudy Wurlitzer's The Drop Edge Of Yonder
The Captain and the Portuguese crew were afraid to set foot on land, convinced that the entire West Coast had been seized by a biblical conflagration; a disaster brought on, they had no doubt, by the godless scum of the earth »


Buddy Godox's REGULAR JOB
Buddy Godox's moving and pathetic performance of "Regular Job" from Mike Golden's 1987 East Village film, "Second Coming." Would you hire this guy?»


Bob Zmuda's Mr X Chronicles #3
"Anyway, so we're in Jersey, drivin' along in the limo, and Mr. X sees this bakery, and says, 'Driver stop over here, I want a glazed donut. Okay, so inside, it's midday and there's a few people in line, so X just blurts out, 'I want a glazed donut,' real loud, like they're all just hard of hearing, and this woman behind the counter, her name badge said 'Flo' »


The Buddhist Third Class Junkmail Oracle
Who killed d.a. levy? The last poet in America put of trial for the language of his art »


Foamola has been described as "the best band since the Crimean War" by the Milwaukee Courier-Dispatcher. Since 1990, their frequent melodies have cheered the Lower East Side, and occasionally Soho.



Obviously, politics breeds strange bedfellows, and those bedfellows have been known to breed more than a few conspiracies hiding behind generic government cover-ups, i.e., such as the blatant cronyism behind war profiteering and the oil companies' windfall profits at the expense of the rest of the economy. And while we're at it, let's not... »



She woke up before noon, which is something she had not done for two or three years. Before she showered, she went for a jog. She came home, turned up her music, and practiced yoga for an hour. After her shower, she stood on the couch and pulled down the poster of George Clooney »
He was up fourteen grand. He decided to keep four for himself and give the rest to Walker as payment for the next installment of the script, making himself the producer. He would have Walker sign a paper saying all three of them owned the script equally. This was his move. … »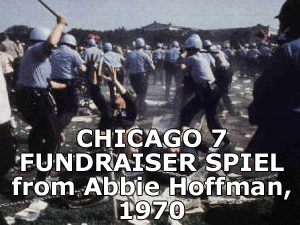 Ok, given what's been happening in this country, who better to serenade us than our dear Abbie, with this first time online oldie but goldie from the middle of the Chicago 7 (8) trial… »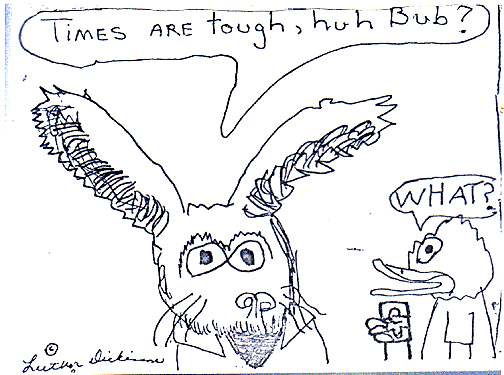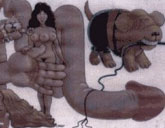 Dick Lit
Missionary Positions
fiction by Joe Maynard


Painting by Peter Cross
"dick lit" is here to acknowledge the good, bad and ugly that goes with it, as it celebrates every young boy's quest to get off the next time, and every old man's quest to get off one more time, before there is no time left to get off on... »