Darius James sings
Sun Ra's
WAR, NUCLEAR


bart plantegna's
CONFESSIONS OF A BEER MYSTIC
part 2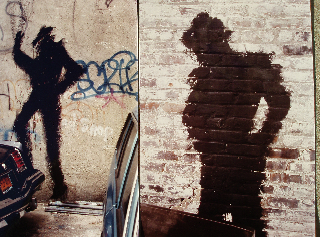 Hambleton-Palaia
street Poster

Hambleton-Palaia
80s street gallery
WHOSE CONSPIRACY IS IT, ANYWAYS?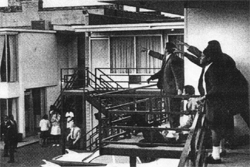 Mike Golden's
"OUR FRIEND MARTIN" REDUX


WAA!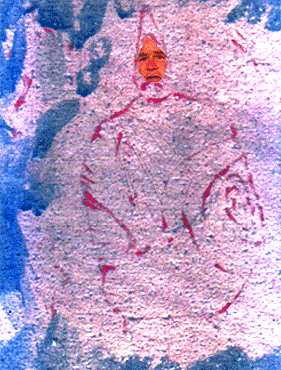 painting collage of UBU, THE DECIDER
by
aka
(WHAT AN ASSHOLE!)

Nominate, Call Out and Vote for:
ASSHOLE OF THE YEAR!
[email protected]
James Luther Dickinson's
singing
ASSHOLE



MY DINNER WITH ABBIE
an appetizer
from Nancy Cohen's film


now moan & groan along with
Mikhail Horowitz's
BLUES OF THE BIRTH I usually printed five thousand copies of each book, and paid a flat fee for the manuscripts which, although modest, formed the substance of many an expatriate budget. My publishing technique was simple in the extreme, at least in the first years: when I had completely run out of money I wrote blurbs for imaginary books, invented sonorous titles and funny pen names and then printed a list which was sent out to our clientele of book-lovers, tempting them with such tittles as White Thighs, The Chariot of Flesh, The Sexual Life of Robinson Crusoe With Open Mouth, etc. They immediately responded with orders and money, thanks to which we were again able to eat, drink, write and print. I could again advance money to my authors, and they hastened to turn in manuscripts which more or less fitted the descriptions.

COMING IN '08 #3
mo' mo' mo'
More Jim Harrison's
Dead Food Scrolls,
Bukowski's (all new in 82)
Notes of a Dirty Old Man
Bob Zmuda's
MR. X CHRONICLES,
more WAA!,
mo' DICK LIT from
Mickey Disend
Great Moments in Sportz!
The Women's Lib Takeover
of Grove Press
Renfreu Neff-John Girono
Interview Each Other

A BUM LOVE STORY
poetry from Michael Lally
& mo' mo' mo'
CONFESSIONS OF A BEER MYSTIC
& mo mo mo


a(never published)
LARRY BROWN CHRISTMAS STORY
ASK DOCTER FAUSTAROLL, PATAPHYSICIAN
[email protected]
TULI TOONS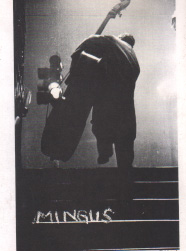 photo by Robert Frank
Bob Riedel's

VOICE OF AMERICA

I have heard the Voice of America
screaming in its sleep
only to wake and claim
that it never dreams
I have heard the Voice of America
crooning to its lover
"It's over
Do it again."
I have heard the Voice of America
an ashen whisper
a mad hissing
a croakthroat announcer
spewing bad vibes
a crackpot coloratura
yodelling "Dixie"
in a vacuum
cleaner
(the dog is shedding
the god is shedding
his grace on thee)

I have heard the

Voice of America


clam up

but not for long
The Voice in its Voiceness
is compelled to give voice to
its opinions, its options,
its worries, its stresses,
its tastes and preferences,
its demands
I have heard the

Voice of America


Howling
at a lunar eclipse,
coming through one hundred
drive-in movie theater speakers,
coming through one thousand
Japanese transistor radios,
encumbered with one million
star-spangled mannerisms
I have heard the

Voice of America


speaking softly, softly
and carrying the biggest
fucking stick anyone
has ever seen
more....
CHECK OUT
BUKOWSKI'S
(all new in '82)
NOTES OF A DIRTY OLD MAN

Jim Harrison's
THE DEAD FOOD SCROLLS
Tales from the Old Stash
Bob Zmuda's

MR. X CHRONICLES
pt. 2
"Dick Lit"
by any means necessary Smoke Signals feature series....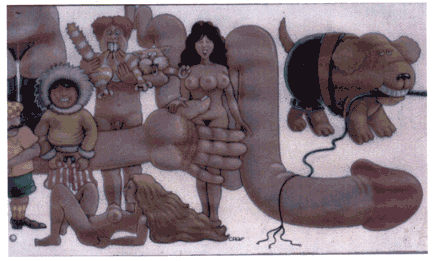 "dick lit" is here to acknowledge the good, bad and ugly that goes with it, as it celebrates every young boy's quest to get off the next time, and every old man's quest to get off one more time, before there is no time left to get off on...
with

Life Outside the Box


By Joey Amdahl

and
aka's new play DICK JOKES