Bart Plantenga's
Confessions of a Beer Mystic #11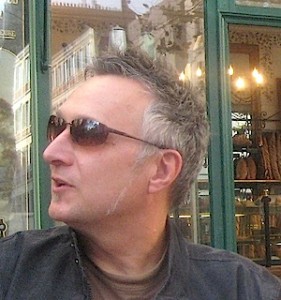 When I get home from work I lie pie-eyed in the steamy tub for hours — make it mine immediately by peeing in it. The worth of work is measured in the amount of pain you feel. And the less lunch hour you get the more important you're supposed to feel. I have to remind myself to write all that down when I hear the dogs outside baying, howling at the streetlights. The story goes (where'd I read it?) that one guy or more (it's always guys!) are going around calling themselves the Canine And Cat Liberation League. T(he)y come along the avenue with box cutters and slash the leashes of dogs tied to parking meters — dogs freed of master. We intuitively side with these liberators. But now hundreds of dogs have formed tight knit packs that rove out in traffic, upset vehicle movements, cause traffic jams, gallop down shopping corridors, panicking pedestrians and shoppers. Shop owners complain. And not to mention all the canines that get hit by cars. So many the city reportedly can't even cart them away fast enough. Chinese restaurant owners have been called to help. They can have as much of the meat as they can cart away. But this is all rumor.
[Nielle, secret researcher and Pivo's noctivigant partner and most loyal friend: "Furman Pivo has acquired what he calls a 'dipsomaniacal lobotomy' which allows his mind to distill the essence from a drunken stupor, remaining unreachable, eluding all content that gives too much weight to the proposition that one is nothing, nothing at all. His hair looks like like it was done by the hairdresser who does the wishniks' hair. Like a mad professor in CBGBs. And that he carries it off is charming. No? I mean his skin's like that of a ghost threatening to materialize. Like a placeholder, an empty glass of milk, the courage of 1000 dreams, a vicious rumor about to blow up in a face, a dusty halo in a dingy basement."]
I lie there until the water begins to ripple from my body's own trilling, trembling with the broken-dream's rattle. Like the rattle of a bulb with a broken filament. At night you can hear the roving gangs of youths as they begin their assaults on dogs — wolf dogs (yellow-eyed malamutes and aggressive, bored wolf hybrids), any dog, all dogs really — bashing them into whining, yelping pulps with tire irons and aluminum baseball bats. The PING! of an aluminum bat to a canine skull is distinctive and cuts through the general din. But sometimes it seems the dogs emerge the victors because you can hear them howling triumphantly under the streetlights they confuse for more heavenly bodies.
All my books, their import, and all their allied shadows have sinister smiles and I can see them budging and vying to fall with all their burdensome knowledge upon my tender nog in the tub.
The green beer bottle floats around me like a buoy in a choppy bay. My mind gnaws away at a thought — I was once a very nice boy.
I hold my breath under water. Count how long I can go before I pass out. I try to increase my time. Never know when someone's going to try to drown you at a party while you're bobbing for apples. I try to identify various footsteps in the hall — above and under water. Hope it's not Djuna. I hear my heartbeat underwater. It is pitched by stress to sound like the frustrated pounding of an incarcerated soul. I polish off a 6 pak. Beer bludgeons with the regret of squandered idealism. (Less messy than a hammer.) Or it tickles tunes from the cranial wrinkles that can make the whole body hum with delight. The hum of a yogi fixed in transcendence, the hum of a young boy walking to meet his young love. There must be a lot of empty bottles in heaven. More footsteps. I hope its not Djuna.
I hear the neighbors upstairs dancing. Square dancing? Or fighting? I think it's a guy and his mom. Though it's hard to attach faces to apartment #s. When he's not repairing furnaces he's home. And she never leaves the place. Nags him. He tells her to shut up. I think he beats her. Boredom is the thing which has character gnawing away at our souls.
Bean and cat food cans sail by my window. In the hall I try to read the faces to determine the culprits. Do the faces of the guilty look different? Or have we all figured out how to look all ways to all people?
The old woman washes plastic bags to keep busy. Hangs them out on the line. I have seen it. A fascination with how others deal with boredom keeps me from climbing the walls.
I'm persecuted by the clumsiness of others. I call Elsa. It's her machine I talk to. How and when did it become a relief to talk to the machines of people instead of the people themselves? "My coffin'll include a sound chip. Whenever anybody opens the lid it'll trigger a sound bite — laughter, applause, I haven't figured that part out yet. I think I'm gonna wear a Smilie mask in there." I hang up. I realize there is a very fine line between harassment and come-on. The neighbors upstairs drop dull, heavy things on their floor — perhaps it's her? hurt and hurtled? — their floor is, of course, my ceiling, is the nature of the universe. I realize that some people are most alive when they are meting out vengeance.
The plaster dust stinks when it lands in the tub. Like the dust of a building that has witnessed much pain. Like plaster made from the bones of fallen warriors. They also run their water so it whistles through the pipes to ring and wring my nerve endings. I can't believe it doesn't bother them. If you step into my bathroom, don't mind me, you won't see genitalia, the water's all cloudy now. Look up and you'll see the marks where I poked my broom handle up into the ceiling — BANGBANGBANG. But do I really expect them to understand what 3 knocks to their floor is supposed to mean?
As a game I sometimes feign blindness when I get out of the tub. Grope around for my beer — a hallucinomimetic pilgrimage. There's something tactile and exciting about this. And the fridge only feels truly empty when there's no beer left in it.
It seems the super mops the hallway floor with embalming fluid. Smells like a morgue one day, a slaughterhouse the next. Is it the conspiratorial or the happenstance menace of other humans? After another beer I'll be able to tell. Green bottle floats and clinks into brown.
And what about that protruding nail at the corner of the stairs that catches skin — sometimes mine!? Especially when my homing device is skewed by one-too-many brewskys. I imagine a gouge of my skin hanging there along with someone else's. I imagine us as neighbors with matching scars that we will carry around for the rest of our lives. I imagine meeting her and running my forefinger around her scar's perimeter and being able to tell her things about herself.
I mean this damn nail could snag somebody's eye! When's somebody going to do something about it? I guess, like me, they fear vengeful reprisals from the super. He's capable of ingenious tactics. He can send water rushing down your walls. Turn them into oatmeal overnight. Make the pipes rattle through your dreams. I could end up with a constellation of sharp but unidentifiable objects in my back. 3 doubts lead to 3 more. This is what I hear.
Sometimes there's pink fuzz from a girl's sweater balled up around the nail head. #8? The one, I heard, soaks in formaldehyde and olive oil to preserve her youth? Or #6? She plays, I heard, a mean cutthroat brand of musical chairs.
All of this makes me wonder. I am anxious to confuse the boundaries between what is and what should be. Ah, to share that nail head with her. Now that'd be IT or at least something. And if and when we know it — capital "I" — what do we do with IT? Does it really help to know?
to be continued –
Confessions Of A Beer Mystic by Bart Plantenga
http://smokesignalsmag.com/OldIssue/bartconfession1.html #1
http://www.smokesignalsmag.com/2/beermystic.htm #2
http://smokesignalsmag.com/3/beer3.html #3
http://smokesignalsmag.com/4/wordpress/?page_id=27 #4
http://smokesignalsmag.com/7/?p=6 – #5
http://smokesignalsmag.com/7/?p=1344 – #6
http://smokesignalsmag.com/7/?p=2192 – #7
http://smokesignalsmag.com/7/?p=2295 – #8
http://smokesignalsmag.com/7/?p=2725 – #9
http://smokesignalsmag.com/7/?p=2783 – #10
How to become a Beer Mystic – by Mike Golden
http://smokesignalsmag.com/7/?p=653
Bart Plantenga – is the world's foremost Beer Mystic and authority on yodel-ay-ee-hoo!
http://www.bartplantenga.com/•
Sharon Mesmer interviews the old Beer Mystic @ http://www.brooklynrail.org/2011/10/books/beer-is-two-subway-stops-away-from-mysticism
WRECK THIS MESS
Here are some of Bart's more recent radio shows available for your ear-ly pleasure. themes were nature [2], serge gainsbourg, blurt, electronica-blues, the meeting of wfmu & wtm in the amsterdam studios, the dutch band Emma Peel, many versions of that classic ditty of undeniable fluff – Popcorn…