Bart Plantenga's
Confessions of a Beer Mystic #15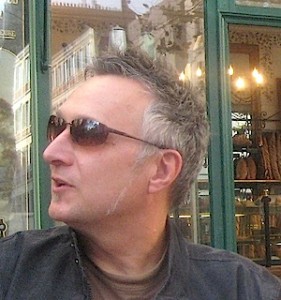 I was mixing black and tans in honor of the mulatto affair I was having with Nielle. Black and tans are a co-mingling of 2 distinct beer cultures, 2 distinct tastes, 2 distinct aliens to each other. Dusk in the time of brew. It was also a very frugal way to enhance cheap beer: a 6 pak of Pütsch at $1.99 plus a pint bottle of Guinness at $2 and voila, a pauper drinks like a king. A sweet and noble delusionary concoction was never had for so little.
I was now minding my own business which is really no business at all. I was in again because Djuna was out again. I have kept my distance which of course was not necessary because she was already keeping twice that distance. For Djuna, staying out late had become a direct manifestation of living the high life. The longer she stayed out hopping from bar to club to party, the easier it was for her to convince me or, for that matter, herself that indeed she was living a life way beyond any means or expectation or ability to endure the dissipation. All this just to her turning inside out, just before her make-over as evangelically clean and no-nonsense prosperous. This was how the disinherited made themselves over as street-accredited cognoscenti. As beings that appeared to be unbeholden to rules and regulations. The later she stayed out the more she could ridicule the pathetic course of my life.
But I was quite content to have it this way — her out, me in, rearranging my beer can and bottle collection up on my very smart shelf recently painted a very sharp enamel black. This was indeed, the 5th rearrangement of my collection in as many weeks. This time I arranged them by country; actually by nations of women I have dated. So the nations represented by the most women came first — 5 Italian bottles representing the 5 Italian women I've dated. There was a Moretti, a Dreher, Integrale, Sans Souci and a Peroni. Each was a statuette, a memento amore in a campo santo. (I learned a few words from them here and there.)
Each woman and each in her time had inspired me to partake of a specific brew native to this land shaped like a hi-heeled boot. And when I was with one of them I would try to imbibe this recommended brew. And this would be half the battle. One goes to the heart via the land and the brew. And when I was not with them I would try to learn more about them by partaking of Italy's other brews. This is homework, this is ritual and this is what kept me close to each of them. It can bring me close to them right now. It's as easy as going to Abdul's Sip-n-Snak All Nite and taking home Nina in a Sans Souci or Giorgia in an Integrale. Call it voodoo or hokum or sentimental but in ways it paid off.
The 5 Jewish women represented by 4 Israeli beers Nesher, O.K., Gold Star (old ale and lager), and Yarmulke — it's label says "In Awe of the King of Beers") — when I dust the bottles, stare at the labels, their lives all come pouring back into my internal organs. This is how I travel. My bumperstickers and decals are all beer labels.
The 3 French women are represented by Jenlain, Pelforth, and 33 Export; the 2 Japanese women by Asahi and Sapporo, Michigan by Stroh's and the 1 Texan by Lone Star — but you get the picture. 283 bottles and cans — and no, sadly, not each of these represents a different lover.
I remember Janna, the wan and gone dramaturge from Prague. Meeting in the Old One Eye, where she'd bring huge mugs of beer back to the table and I could see the muscles in her arm flexed. This is where I claimed to be from "where beer was invented" — right here.
"I remember my mother's milk was rich in sweet taste of barley. I learned to walk in the golden wavy fields, chewed on the heads of barley stalks. Transport, mobility, reverie, wandering, they're all caught up in my early memories of beer."
"I do not very much believe you but this be OK since the lies you hold are most harmless and good entertaining." Said Janna.
"I think there is some connection that is not easy to explain."
"Better you leave it so."
"I mean when'm I ever gonna be able to use this myth again?"
"I think you learned so much about Czech beer legacy that I think it take you away from me." Like I had pursued her right out of my midst. I think she felt all this erudition would require of her some exemplary (mis)behavior.
"Budvar, the original Budweiser, is from your Ceske Budeovice."
"I know very well my upbring."
"In the shadow of the foothills of the Austrian Alps."
She showed me how sexy burping back last night's Budvar into the mouth of your lover can be. This was the Czech version of mouth-to-mouth resuscitation, the Budvar Maneuver.
And there sat the 283 beer bottles and cans, 100+ of which were encrypted with the memories of a special occasion with a special woman. I had afterall, been for a time — somewhere between 3 weeks and 3 years — a legendary afflicted bassist-avant nerd in a concrete No Wave band.
And so now, when Djuna looked up and saw the shelf full of bottles she saw not only lost rent deposit, not only $.05 X 283 = $20.15 worth of deposit money, but that the bottles were more than bottles. She went crazy at the sight of any graven image, snapshot, or rendering of any girl from any past I may or may not have been a victim of — no matter how distant that past. Even the photos of some of my best guy friends she'd tear up! Thus by encrypting memories into the various bottles I could summon up any one of them at any time and Djuna did not ever need to know. But obviously the jealousy is not related to love or affection or notions of monogamy. No, it's genetic, congenital. so let her go suspect I had crazy communions with my bottles. Let her make her eyes at me!
But by 1 a.m. (NOT AGAIN!) my neighbor in #4 (not #36) was ranting on about "puta," sluts, sabers and vivisection in the hallway. He bangs on walls, presses the brim of his NRA cap into my forehead when he corners me trying to corner him, and somehow he always manages to renegotiate me through his "illustrious" past. He tests the limits of the quandary: do you have to actually have lived a life to be able to talk about it or is it enough to have just dreamed it up? Can the dreams or delusions be considered part of your life? I need to know this.
Djuna doesn't buy Pasha Georg's crap; she is fed up. Wants to call somebody. But who? An exterminator? This is what he's told us so far:
1. He was an orphan. (Everytime he mentions this Djuna raises her eyebrows and says, "No wonder." She has said "no wonder" at least a half dozen times.) He was kept in a shoebox those first few days of life. Incubated in a bakery oven.
2. He's sure our neighbor in #3 is a spy with a "primitive surveillance device."
3. He was a champ half miler. Missed the '36 Olympics because of bursitis. For which he later invented a cure. Jonas Salk may have stolen ideas about his polio vaccines from him. They went to college together.
4. He's a surgeon with 22 degrees. He can show me if I'm ever interested.
5. He fought in North Africa during WWII. He was master of the desert. A unique cravat style, the "Georg" was copied from him during his battles with Rommel and became all the rage in Southern Europe immediately after the war. He sent Rommel scurrying more than once in humiliating retreat. He refused to shoot Rommel in the back although he could have.
6. He led a hodgepodge army of Arab pirates, Zulus and Celts to over 20 decisive victories in battle against the Nazis.
7. He wore a gleaming silver helmet decorated with 3 cockatoo feathers. The silver blinded opponents in hand-to-hand combat. He also wore a kilt, cowboy boots, and his signature cravat. He rode a glorious white steed and was often confused for Lawrence of Arabia. Who he claimed to know and considered a "pompous oaf."
8. He has a vice-like grip that kills even the strongest. Could crush my neck "like a grape." He is by law not allowed to even demonstrate this hold.
9. He saw 12 belly dancers, including Mata Hari's daughter, dance at one time in the Sheik's palace in his honor.
10. One redhead later performed all night for him for $2. He later married her and she became a famous movie actress. Each time he mentions her name it's different. It is not Rita Hayworth however who he also met.
11. He once broke up a Russian spy ring. Was recruited by the KGB. He considered becoming a double agent for the remunerative aspect.
12. Was hired by the White House to entrap homosexuals involved in white slavery and kiddy porn. He has 1000 letters from grateful parents thanking him and nominating him for a Cabinet post. He says not all homosexuals are bad.
13. His unique torture-confession methods, as learned in WWII, have been approved for use by the CIA in El Salvador and Zimbabwe. He has mentored only 6 official trainers of his methods.
14. He was a potentially great opera singer. His voice has natural vibrato and perfect pitch.
15. He saw Caruso the Great die on stage.
16. The last words Caruso heard were actually his — on tape — and Caruso claimed they sounded just like his own. Then he died.
17. One day he heard his own voice on the radio. He realized later that someone had made a recording of him singing and had produced a record of it and then claimed it was someone else. He claims to have settled out of court for $138,000.
18. He claims he can do the Sunday Times crossword puzzle in 5 minutes or less. I can watch if I so desire.
19. He saw a preview of his next life. He insists he will be a pasha and will personally reunite Turkey and Iran as Persia.
And then he mentions, in a mumble so out of character for him, something about him organizing the hounds of Hell into baneful roving packs. HMM! I could be wrong. I sometimes have a hard time listening because I am so absorbed in watching his face as it talks and moves in a thousand directions all at once. He said (I could be wrong) he trained these canines to rob and mug. Are these the same canines from the news? I could see his stash of gold chains that they've snatched for him … But then again, maybe I just hear what I need to hear. Or perhaps, circumstance had made me hear things in a certain peculiar way. In this way, all of life can be seen as an accumulation of misconceptions, a calculus of misbegotten phenomena, where disunity becomes a kind of unity of knowledge. This has managed to serve the present regime quite well.
And with this "new" chapter of his life he punctuates his departure with some flamboyant swordsmanship right there in our hallway.
Another night he came to our door to claim that agents (and radio dj's too — I say nothing!) were harassing him. Claimed his walls held voices. And when we refused to answer the door he smashed the hall light with his "saber," really just a broomstick into which he had carved intricate cryptograms.
"It's like a movie," I thought.
"We have to do something. Call somebody." Djuna was spooked.
"Call your ex. Maybe he'll do a video."
to be continued –
http://smokesignalsmag.com/OldIssue/bartconfession1.html #1
http://www.smokesignalsmag.com/2/beermystic.htm #2
http://smokesignalsmag.com/3/beer3.html #3
http://smokesignalsmag.com/4/wordpress/?page_id=27 #4
http://smokesignalsmag.com/7/?p=6 – #5
http://smokesignalsmag.com/7/?p=1344 – #6
http://smokesignalsmag.com/7/?p=2192 – #7
http://smokesignalsmag.com/7/?p=2295 – #8
http://smokesignalsmag.com/7/?p=2725 – #9
http://smokesignalsmag.com/7/?p=2783 – #10
http://smokesignalsmag.com/7/?p=2910 – #11
http://smokesignalsmag.com/7/?p=3008 – #12
http://smokesignalsmag.com/7/?p=3206 – #13
http://smokesignalsmag.com/7/?p=3363 – #14
How to become a Beer Mystic – by Mike Golden
http://smokesignalsmag.com/7/?p=653
Bart Plantenga – is the world's foremost Beer Mystic and authority on yodel-ay-ee-hoo!
http://www.bartplantenga.com/
Sharon Mesmer interviews the old Beer Mystic @ http://www.brooklynrail.org/2011/10/books/beer-is-two-subway-stops-away-from-mysticism
WRECK THIS MESS
Confessions Of A Beer Mystic by Bart Plantenga