Bart Plantenga's
Confessions of a Beer Mystic #17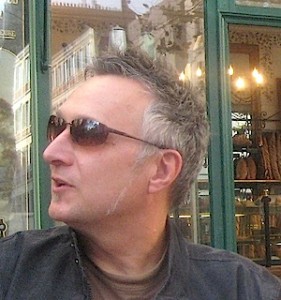 "Any o' yous evah touched a real tree." I ask my neighbors. "Wood not covered with 10 coats of paint. When's the last time yuh got real dirt under your fingernails, popped a milkweed pod, know that olives grow on trees, know the shape of a fish other'n fish stix?" No stoop gargoyle even bothers to look up. One woman fiddles with a big button that says simply JESUS (is that so when he comes back he'll know who the real members of his fan club are?) pinned to her dingy terrycloth bathrobe the same drab color as the walls of the mental hospital. I was just more street noise.
"Ever heard the nocturnal song of the nightingale?" (Do the sirens, the car alarms, these "Manhattan shrikes," ever vacate our inner ears?) Yea, I suppose I'm just another anybody who rants on and on because I'm either drunk, stoned, bonkers or horny or 3 out of 4.
"How come you know tings?" This one gnarled pug asks. They are all enamored by the convenience of proto-thought, pre-packaged individually-wrapped, reheatable, reflection-free and low-in-perception prejudiced thought bites. They just simply need to misunderstand and so they do. Once in a while they'll turn their heads to see if their casket or mine is floating down the gutter towards our stoop.
Marco, our super, yells at me. It can be about anything. He's in #11. He's a sinewy snarling piece of work. Always dressed in his Nam fatigues, showing off the bulletholes by pushing his forefinger through the raggedy orifices. The problem is he still thinks he's in Nam.
The other day he found some of my garbage in his can — crime of crimes. How'd he find out without going into it? The old women in the hall stare, shake their heads with the sinister glimmer of pity. Pity doused in vengeance. They're not above putting my garbage in his can. The evidence was supposedly an envelope addressed to me.
So I went down, took out the violating sack. Say excuse me to him and then drop it on his Welcome Mat. He is awed beyond the capability of physical reprisal. The sheer audacity of my act prevents me from becoming a victim of his big rep — as a face re-arranger. Everyone seems to be a timebomb around here just itching to be triggered and go off to leave a big crater on the face of the earth. Or at the very least a mythical pothole in the uptown lanes of the FDR. Is it thought (made ineluctable by paranoia?) into action or action thrust into the blossoming wound of thought?
The fact that Marco's dog, Angel, still has all 4 of its legs is thanks, I guess, to his big rep. No butcher would dare touch his Angel. Angel is 13 and arthritic. When Angel squats to leave it's runny dog truffles on the walk Marco has to wipe Angel's ass. The crap gets caught in Angel's tufts of haunch hair. And sometimes Angel gets stuck in a squat position, the joints just freeze and Marco has to massage and maneuver Angel's haunches to get her moving again. Now and again, the intimacy of their special relationship has me confusing Angel for Marco and I will sometimes call Marco, Angel. I thought of what could be reaped from this.
So the other night I positioned myself in the window sill. And there I ate dinner off the stained glass plates Djuna brought back from Chartres with her sometimes ex. These are the ones she hides so I can't use them.
I waited and waited, vigilantly wrapped in my blue blanket, perched in the sill. Waited for the perfect photo to catch Marco in the act. Click — no flash with 1000ASA film. The next morning I went out to have my pics developed in a 5 minute photo joint. I took the best — there were several — enlarged them on a copier, then made 100 copies of these photos. After midnight of that very next day, I put up the fliers of Marco wiping Angel's ass all over the neighborhood and even in the toilets of some of the local bars like What The Fuck (WTF) and the Den.
Early the next day I see him tearing them off walls and lampposts, lighting them with is lighter while interrogating neighbors. No one knows nothing. He is furious.
Angel doesn't distinguish between friendship and fear. The petting is all the same. And Angel is right. The kind of friendships Marco has are all steeped in fear. I'm talking about the kind of fear that makes people small talk with Marco and fuss over Angel, talk googoo talk to her and act all chummy with Marco, even buying him drinks once in a while, all the time acting like they love his incontinent Angel, his only true love.
I still suspect the puke in the hallway is Angel's. No amount of intimidation is going to make me think different. I mean everybody's afraid to so much as even suspect Marco's Angel. Everyone fears the repercussions. And since Marco was in the Marines the revenge can take on some amazingly creative angles.
He does a lot of stints on our evening stoop, describing the ingenious ways they tortured the VC and then blew them apart. His fingers always finding their way to the bulletholes in his fatigues. He can do stuff to your mailbox, make your electricity short out, make you hear screams in your sleep, hire vets of random violence to rough you up, fuck with your telephone, your windows, your mind.
The last puddle of Angel puke languished in our hall for so long that a colony of ants fought off a pack of winged cockroaches and finally devoured the whole gut soufflé …
to be continued –
http://smokesignalsmag.com/OldIssue/bartconfession1.html #1
http://www.smokesignalsmag.com/2/beermystic.htm #2
http://smokesignalsmag.com/3/beer3.html #3
http://smokesignalsmag.com/4/wordpress/?page_id=27 #4
http://smokesignalsmag.com/7/?p=6 – #5
http://smokesignalsmag.com/7/?p=1344 – #6
http://smokesignalsmag.com/7/?p=2192 – #7
http://smokesignalsmag.com/7/?p=2295 – #8
http://smokesignalsmag.com/7/?p=2725 – #9
http://smokesignalsmag.com/7/?p=2783 – #10
http://smokesignalsmag.com/7/?p=2910 – #11
http://smokesignalsmag.com/7/?p=3008 – #12
http://smokesignalsmag.com/7/?p=3206 – #13
http://smokesignalsmag.com/7/?p=3363 – #14
http://smokesignalsmag.com/7/?p=3448 – #15
http://smokesignalsmag.com/7/?p=3505 – #16
How to become a Beer Mystic – by Mike Golden
http://smokesignalsmag.com/7/?p=653
Bart Plantenga – is the world's foremost Beer Mystic and authority on yodel-ay-ee-hoo!
http://www.bartplantenga.com/
Sharon Mesmer interviews the old Beer Mystic @ http://www.brooklynrail.org/2011/10/books/beer-is-two-subway-stops-away-from-mysticism
WRECK THIS MESS
Confessions Of A Beer Mystic by Bart Plantenga