Bart Plantenga's
Confessions of a Beer Mystic #18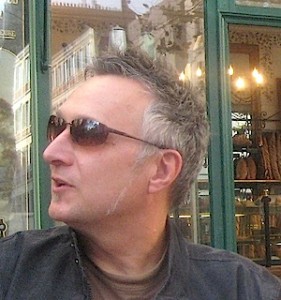 I don't trust mailmen. I see they are chummy with Marco. This portends some impending act of random harassment. And, yep, for some reason I go weeks without a letter. Not even my Congressman or Key Food or the national mobilizing organization that wants all AIDS patients tattooed and children fingerprinted. And then what? I don't know. I haven't had any mail for 13 days.
Someone keeps dumping their garbage on my welcome mat as well. I don't know if it's Marco but I want it to be. Or maybe it's the Ukes in drab housedresses? I should check for a name on an envelope. The racket in the halls and pipes never stops these days. The heat comes and comes regardless of how warm it is outside. This joint reminds me of a slaughterhouse. Or a dorm for saccharine addicts. Or a kennel.
Rumors abound: They say the ozone is melting away. Like pantyhose in one of those sour Iron Belt breezes. They say somebody with a front door key Krazyglues apartment door locks. There are strangers in the hall in ill-fitting suits purchased on 14th Street who look at you like you are the stranger.
She, #8 (the one with the kid and college degree), worries that much of her life has been handed over to others. She mentioned another breastfeeding incident. And this time I swear, she seemed to place special lingering emphasis on the word BREAST. Like it's the longest word in the dictionary. I swear. Even seemed like her chin graced her sternum as she brought her eyes (to which mine were attached) into the vicinity of their prominence.
"…  And dju know that BREASTfeeding helps strengthen the baby's resistance against infection. BREASTS produce colostrum which is very high in antibodies that protect the baby against polio, E. coli, and staphylococcus infections. And dju …"
"I read it makes the kid smarter. If that's the case I must be a genius."
"Why?"
"Cuz I breastfed until I was 16."
"16 months is not so unusual."
"No, 16 years of age!" This did me no good with her. I still don't know her name and no smart woman in NY puts her name on the mail box any more.
She convinces me she never leaves her place without #25 Bain De Soleil all over her body. There is a silence that is ripe for reflection. My mind is tracing paper.
"The sun is an agent is the biggest agent of carcinogenesis." I agreed before I fully understood what it was she was saying. When I looked it up in the dictionary I had been right to agree with her. Better her fanaticisms … maybe I can even ride out her fanaticisms toward something better.
The sweaters she wears sometimes slip off her shoulder. And I consider helping put the sweater back up over her clavicle as she tells me how Marco once made a play for her in the hallway by stretching his arm across the width of the hall so she couldn't pass. And as he spoke to her he fondled his groin. She says she's losing sense of when a come-on is really intimidation and when intimidation is really harassment.
"I don't know whether a laugh will put'm in his place or whether it'll put a knife in my chest."
She's also done some modeling. Lingerie. Mail order catalogue stuff. A week later she left a fat catalog on my doormat. (I think Marco may hate me even more now that he's seen me with her. In his mind, which works like a boobytrap, she is all his.)
I greatly enjoyed leafing through the lingerie pages while in the tub. She'd thoughtfully dogeared the pages and circled the pictures with her in it; her knees like those grocery store mushrooms in blue boxes. One day I masturbate to her image ripped from the catalog and stuck to the wet ceramic.
Her skin in real life is even more a testament to perfection, to china, to calm, to internal combustion, to the haughty preclusion of the ravages of light than the catalog reveals.
To her I toast my weissebier with its clovish scent, pale color, small head, intense feminine teasing sparkle and complexity. It is usually served in a tall vase-glass with a slice of lemon clinging to the rim. And that is exactly how I have it. Some things are worth doing right.
"She's all airbrush." Djuna attempted to set the record straight.
"Constant dubiosity is a disease of the spirit."
"Oh, go choke on some beerhead."
I like to watch her walk past in her peach sweater. So, hey, it IS HER! #8, the outlaw BREASTfeeder! Does she maybe (maybe from the faintest hope inside desire) leave the balls of pink fur on the nail head the way Gretel left bread crumbs on the forest floor? For me?
She is so unlike Djuna. She is that tension between perceived insubstance and verifiable consequence. Someone who defies precision and measurement. Djuna hates women who are too much like her as well as those who are totally UNLIKE her. Djuna hates her. Her mere existence (as the owner of a prominent bosom and beautiful skin) and my acknowledgment of her is provocation enough for Djuna to remain in an almost perpetual funk now. It was as if she were begging to be irritated because she had learned in her drama classes, in her 12-Step seminars, in her faithful readings of the lives of martyrs, that all depth of human understanding, all profundity comes through the clean screaming maw of misery.
Djuna, unlike #8, beckons the sun into her anointed midst up on the roof where she can be closer to HER sun. As if ole sol, like a gigolo, rises especially to service her desires. I see her legs splayed and shiny up on the tar beach. Where #24 dries her laundry. Underwear big enough to cast a sailboat across the sea.
As early as March she begins reading articles on new tanning strategies. (It's a confluence of 12-Step focus, careerism and lack of purpose in the heart. How else to explain her sudden shifts of fanaticisms?) And there she'll be, April 29, heroically tanning in goosebumps and baby oil.
"Don'tchu think she looks like an empty glass of milk?" Djuna asks.
"Better'n a shot glass brimmin' with strychnine, doll."
"Don't call me 'doll'." I knew that had been her nom de striptease — Dolly Dégagé, as in free, easy, unconstrained. And I certainly knew that her father got under her skin calling her that. But that was back then.
"Dju know that some women become sexually aroused during breastfeeding? Even have orgasms. Oxytocin, the hormone that triggers orgasm is the same that gets the milk moving when the BREAST is stimulated by the baby's sucking …"
"Candida Albans told you that?"
"#8?"
"Candida Albans. I mean don' act stupid. You know whatcher doin'. Drivin' me crazy. Hiding my things, defacing my magazines, getting Marco all pissed off and now flirting with …"
"Paranoia looks so sexy on you."
I repeat: Candida, Candida, Candida, Candida and pick up her copy of MUSCLEMAG and see the headline; BEER AND BODY TOXINS. The article states that hops may be good for the beer drinker's body. "'Hops contain compounds called lupulones and humulones which stimulate the liver to hyper-produce enzymes that may aid the body in eliminating toxins, poisons, pollutants, drugs and certain body hormones.' Haha. Well, there you have it."
"Don't overheat your brain, hon." Hon as in jerk.
"You know," I jab back. "Flashing lights is what gives people epileptic fits."
"It's actually the sequence of dark and light …" Her eyes fluttering like 2 drops of water seething on a hot skillet.
"I don't care whatchu think, I'm still convinced some people possess under-utilized magnetic properties which glow only at fortuitous instants. They can make compasses go haywire, disrupt radio broadcasts and maybe — why not — put out lights. It is a flow of current, of stimulated sex chakras, of saturated kundalini hormones. On top of that …"
"Oh, here he goes, Furman Pivo, going for the take down …"
"'3 beers a day; get this, reduces chances of myocardial infarctions. Beer increases the presence of good cholesterol lipo-proteins … Consumed in moderation, the Ancients drank beer to renew their spiritual strength.'"
"Listen, just cut the crap. And quit leavin' me notes all over the place!" I'd begun this campaign to win her back to the dark realm of the tavern pew by leaving her beer quotes, some of them courtesy of Nielle, such as: An alcoholic is someone you don't like who drinks as much as you do. • Dylan Thomas — on little snippets of paper inserted in her cookbooks, taped to her career magazines, stuffed into her 12-Step folders, on Post-its left on the bathroom mirror — I have taken more out of alcohol than alcohol has taken out of me. • Winston Churchill.
And long have I considered re-writing "Aladdin and His Lamp." Be in Aladdin's place. Do it right. Make sure my first wish is an unlimited number of other wishes.
to be continued –
http://smokesignalsmag.com/OldIssue/bartconfession1.html #1
http://www.smokesignalsmag.com/2/beermystic.htm #2
http://smokesignalsmag.com/3/beer3.html #3
http://smokesignalsmag.com/4/wordpress/?page_id=27 #4
http://smokesignalsmag.com/7/?p=6 – #5
http://smokesignalsmag.com/7/?p=1344 – #6
http://smokesignalsmag.com/7/?p=2192 – #7
http://smokesignalsmag.com/7/?p=2295 – #8
http://smokesignalsmag.com/7/?p=2725 – #9
http://smokesignalsmag.com/7/?p=2783 – #10
http://smokesignalsmag.com/7/?p=2910 – #11
http://smokesignalsmag.com/7/?p=3008 – #12
http://smokesignalsmag.com/7/?p=3206 – #13
http://smokesignalsmag.com/7/?p=3363 – #14
http://smokesignalsmag.com/7/?p=3448 – #15
http://smokesignalsmag.com/7/?p=3505 – #16
http://smokesignalsmag.com/7/?p=3516 – #17
How to become a Beer Mystic – by Mike Golden
http://smokesignalsmag.com/7/?p=653
Bart Plantenga – is the world's foremost Beer Mystic and authority on yodel-ay-ee-hoo!
http://www.bartplantenga.com/
Sharon Mesmer interviews the old Beer Mystic @ http://www.brooklynrail.org/2011/10/books/beer-is-two-subway-stops-away-from-mysticism
WRECK THIS MESS
Confessions Of A Beer Mystic by Bart Plantenga