Bart Plantenga's
Confessions of a Beer Mystic #31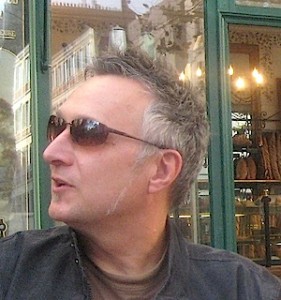 In pursuit of Nielle's beckoning voice and in avoidance of Djuna I walk by the library branch on 2nd Avenue, then the Jefferson Market branch, 23rd Street, Tompkins Square — of course they are all dark and closed behind thick grates of secure mesh because it's nearly midnight in our concrete insomnia. She is nowhere. I leave notes, slip them under the doors of the various far east squats. I no longer live with Djuna, haven't seen her for weeks. And somehow I have lost Elsa's number.
I leave a note for Nielle under the Tompkins Square branch of the public library and continue along the terse perimeter of the park. I suddenly witness a drug entrepreneur, in full scurvy skin and grin behind loud gold, pulling a blade, getting into an associate's car. With a certain slo-mo style copped from a flick, (somewhere between the élan of a fencer and the viciousness of a petty mobster) and with the passenger door open, he inserts the blade into the torso of the guy riding shotgun.
It used to be people only opened letters in such casual fashion. But this entrepreneur had such grace that people in cafes caught mid-sip, mid-allusion, were impressed by the ballet-like beauty of it and forgot whether it was better to yank the blade out or leave it in. The blade handle just quivered there because the car, although top of the line, had a rough idle. A New York Post headline wafts by my feet: "Warm 'E' Train Hums Hobo Lullaby."
The Crack Cartel, with its hierarchical dreams, is a strange and terrifying yet logical affirmation of Capitalism around here. Its get-rich-quick schemes pushed 3 or 4 notches beyond even those of the infomercial and the telemarketer's repertoire. It accentuates the laws of supply and demand. Operates outside the mechanisms of reason and morality. Crack, like military hardware, goes where it is paid for. Like the physics of fluids with a combined density of blood and bile. Like the makeover of luxury into necessity, crack creates its own heroic needs. Desperation sells the stuff. And the victimizers, suspended in their mumbling mythos of pain and craving forget that they too are victims of their own strategic victimization. They have allowed the magnification of profit and fire arm calibers to skew all sense of prior proportion. Packing firepower means responsibility, an increased peer pressure to use the gun. This pressure replaces wit, cunning, negotiation.
The cops in this throat of the 'hood are bred to resemble these hoodlums. This is accomplished by having a gene withdrawn that is essential for the manufacture of nitric oxide, the molecule that allows nerve cells to communicate and is an essential brake on excessive volatile behavior. The absence of this gene leaves the enforcement agents wildly impulsive ("rogue cops"), sensitive not to their surroundings nor their purported vocation but to the most minute slights which might set them off, make them relentlessly aggressive, often to the point of killing targeted humans — the Michael Stewart Phenomenon. In effect, rogue cops are truer to themselves and to their service than the more sedated among them. Rogue cops are the crack entrepreneurs of their occupation.
Some woman around here sold her kid for 3 vials — 3 highs lasting 15 minutes each. And then what? Well, food. She stopped eating. This is the nightmare inside the dreams of the desperately industrious. The dream of the shunned sharing in the shrill celebratory chorus of greed. And boy! does the Crack Cartel grease the wheels of commerce! They spend like there's no tomorrow. Which is very likely.
The cover of night is a savage and delirious color of freedom in the state that does not yet exist. Will they name this area after me? I don't think about it. Darkness is a no-mans-land where adventure is still possible, yea sure, it drags suspicion, fear, apprehension along with it. OK, granted but these are our primary colors.
Night is feminine, the mother of the gods, the unconscious swim in the womb. The Greeks believed the darkness of night preceded the creation of all things. It is fertility, germination, the anticipatory state, the promise of awesome eruptions.
Newstand headline:
HER MAGAZINE
Annie's Got Her Gun:
The Truth About Women and Their Guns.
Although they do not as yet know my face, the Cartel, Law Enforcement and the Yuppoisie's brittle alliance do not like me. I adversely affect one's livelihood, another's dominion and the yup's lifestyle. I destroy turf, the very idea of turf as ownership. I will make parents think twice before tossing their kids to roam the streets past midnight. I will re-establish the diurnal-nocturnal cycles that will allow us to go back to sleep without fear we are losing out on some event or opportunity. I will reconstruct repose. Peace and happiness for every man, peace and happiness through all the land as the song goes.
12th and A is where I'm talking about. Check it out. It's black eyed to the max. I sent a string of 8 streetlights on the ole black eye one ferociously charged night. Perhaps you saw it the night I took the Rum Seer there. A darkness so conclusive and pervasive that the Cartel has since packed up, and conquered new turf. The cops, pretending to be undaunted, skirt its perimeters and huddle in the bright newsstands squeezing free candy bars and sodas out of the proprietors. There are almost no parked cars.
The Cartel members tell a slender range of stories: knifings, bros blown away, boxing, dead lifts, AIDS, the next big thing, all pacing about with gila monster eyes, and arms like baseball bats, arguing with glossy mags of gruesome muscle rolled tight in their backpockets.
The Yuppoisie meanwhile, snuffed by the arrogance of their accumulated comforts, continue to enlarge the gaping holes in their jeans, hunting for the proper grimy nouveau edge, where illicit adventure might resuscitate their over-furnished lives. And when they park their shiny modes of transport they hope to find streetlights (light misused as surveillance and security in the name of the acquisitional state) so they can abandon their tin cans for evenings of worry-free acquisition.
I've black eyed this vigilance of light and so they must go east, further into the toxic repose of the cornered beast. I have thus, in my own way, facilitated the redistribution of wealth. Because darkness initiates an entire process of reclamation. Bye bye radio, radials, plates, plugs, window, seats, grimy guts, crankshaft, doors. BMWs strewn like felled antelopes on the Savannah, picked clean by scavengers crouched in the carcasses with their grimy knuckles. And in a week a Mercedes will be wingless, legless, eyeless, gutless. Adapt and thrive, leave or die!
There's something haunting and beautiful about a carcass of steel. Like an abandoned dream. Like the pig eye I found in the gutter in front of my new walk-up, a chamber that once was an abattoir.
I now feel like part of the natural order of this asphalt jungle. I am ally to the scavenger, one of them. I could demand commission from chop shops. I need an agent. But I must remain satisfied with the highly codified nods they tip my way. A secret agent does best when he keeps ego in check. I go on breathing. My black eyes reshuffle the inevitability of the inevitable. I add exclamation points to despair and danger! Make them seem like hope and love.
Yes, these haunted hulks of steel are my trophies, my sculptures. I take disciples and girls like Nielle there. Her last phone message was beamed in from where? When? "'Drunkenness and immorality will be the stench in the nostrils of God.' That's Billy Graham. But Furman, we know better don't we?" We touch the burnished steel together.
"Like Ahab, champion of darkness." She notes as my hand guides hers then watch as hers guides mine to places I have not gone before. In winter these skeletons hold the cold. In summer they retain the day's heat past midnight.
(to be continued)
http://smokesignalsmag.com/OldIssue/bartconfession1.html #1
http://www.smokesignalsmag.com/2/beermystic.htm #2
http://smokesignalsmag.com/3/beer3.html #3
http://smokesignalsmag.com/4/wordpress/?page_id=27 #4
http://smokesignalsmag.com/7/?p=6 – #5
http://smokesignalsmag.com/7/?p=1344 – #6
http://smokesignalsmag.com/7/?p=2192 – #7
http://smokesignalsmag.com/7/?p=2295 – #8
http://smokesignalsmag.com/7/?p=2725 – #9
http://smokesignalsmag.com/7/?p=2783 – #10
http://smokesignalsmag.com/7/?p=2910 – #11
http://smokesignalsmag.com/7/?p=3008 – #12
http://smokesignalsmag.com/7/?p=3206 – #13
http://smokesignalsmag.com/7/?p=3363 – #14
http://smokesignalsmag.com/7/?p=3448 – #15
http://smokesignalsmag.com/7/?p=3505 – #16
http://smokesignalsmag.com/7/?p=3516 – #17
http://smokesignalsmag.com/7/?p=3550 – #18
http://smokesignalsmag.com/7/?p=3593 – #19
http://smokesignalsmag.com/7/?p=3604 – #20
http://smokesignalsmag.com/7/?p=3665 – #21
http://smokesignalsmag.com/7/?p=3676 – #22
http://smokesignalsmag.com/7/?p=3737 – #25
http://smokesignalsmag.com/7/?p=3752 – #26
http://smokesignalsmag.com/7/?p=3769 – #27
http://smokesignalsmag.com/7/?p=3782 – #28
http://smokesignalsmag.com/7/?p=3797 – #29
http://smokesignalsmag.com/7/?p=3804 – #30
How to become a Beer Mystic – by Mike Golden
http://smokesignalsmag.com/7/?p=653
Bart Plantenga – is the world's foremost Beer Mystic and authority on yodel-ay-ee-hoo!
http://www.bartplantenga.com/
Sharon Mesmer interviews the old Beer Mystic @ http://www.brooklynrail.org/2011/10/books/beer-is-two-subway-stops-away-from-mysticism
WRECK THIS MESS
Confessions Of A Beer Mystic by Bart Plantenga