Bart Plantenga's
Confessions of a Beer Mystic #34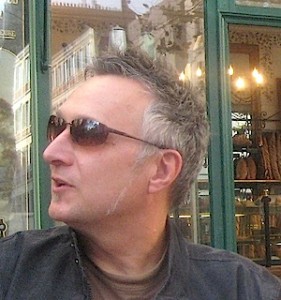 The Beer Mystic and Rum Seer wandered toward the projects as if all sense was now part of NONsense. The jangle of his loose boot buckles made it sound like they were entering the set of a Western. He held one of his projectile-like Kwaks firmly in hand. Ripped the cap off, watched it foam up over his knuckles. She did NOT lick his knuckles clean. And he knew spite when he saw it.
She nipped furtively from her flask, almost hoping for trouble so she could later say "I told you so."
"No good's gonna come to us here."
"Oh, don't go fortuneteller on me now. It's a tour of the New York no tourist ever gets to see."
"I'm no tourist."
Scarification cultists, blood sellers, blood letters and small arms dealers combed the projects showing their steel with all the street swagger of a thousand sputtering dreams. And others content themselves with the titanium plates in their skulls that they claim conduct electricity and receive radio signals. Others negotiated the war zone with hunched skulks, swiftly fleeting, keeping low and out of the line of fire. Voices bounced, echoed, pierced, and were all over the place. Laundry drab and dripping. Snarling dogs in dust, tied to pegs. Brittle harsh scratches of light lost in a dinful dusk. Cumbersome bodies lumber by, ridiculed by their ill-fitting fashions. The brightness of their summerwear mocked any articulation their disillusionment might have mustered.
A woman you know would scratch your back till you bled to death stared at them from a sill as if they were there to take her unborn child. Another sill full of plastic flowers held a woman who keeps bacon fat in a milk carton by the stove. Her eyes resembled lakes full of blindfish, full of that peculiar American emotion — exultant loneliness.
"I've seen this place in an extreme-sneaker-cola-rap-metal ad." Some aspects of commercial street culture have made these enclaves heroic backdrops. [Ed. note: "Because these neighborhoods are so dangerous, the streets so typically dark, it is commonly believed that their trouble may be insufficient lighting. Good lighting is important, but darkness alone does not account for the gray areas' deep functional sickness, the Great Blight of Dullness." Janet Jacobs, The Death & Life of Great American Cities, Vintage, NY, 1961.]
The Beer Mystic and Rum Seer found themselves in a courtyard of confusing swirling chiaroscuros. A world — not 3rd, not 1st — thick bars on the glass covering holes in the walls, bare branches stuck into dirt served as trees.
Sneering denizens asked, "Blond Jesus, whatchu gonna ask when you lost in the projects?"
"Blon' Jesus, you need a ride to Calgary?"
"Calvary! Assholes!" One corrected. Another offered Blond Jesus directions out to the "F" train — for 20 bucks! Another commenced to tinker with the Rum Seer. "I want yo pussy on my dinner table."
"Hey, Scissor Lips Cyril. Why'n'chu marry a tenderloin steak!" People from windows without light or visage called out to him halfheartedly.
"Gonna cut off your big swelled lips too. Feed a family for a week. Must be part niggah. Like me. You should hang wid yer kind. Let Blon' Jesus find his own way to the cross. Let'm pray in traffic." A dank mechanic's wipecloth wrapped around a grimy fist might best describe the remains of Cyril's mind.
"Fuck off!" She said with less than diplomatic aplomb.
"OOh, Hey hon, jus' this side o' death, this here's foreign terr'tory and you gotta live by projec' law — Mah law." And he hauled off and punched her on the side of the face. And then again. Never spilling a volatile drop of his sinister stash. She went down on the pile of black plastic garbage bags, and began throwing TV dinner trays and garbage at him.
"I wanna stick my dick in the crack o' yo ass, Bitch!"
"If you can even find it." The Beer Mystic said putting his own suicidal instinct into overdrive. Cyril took a lurid roundhouse swing at him with his sinister bottle in the shape of a hand grenade and he swung around but his bitter stash had rendered him a mere extension of a bad headache going into orbit — the container was actually swinging HIM, ripping him from his spot, whirling him centrifugally (centrifutiley?) out into dizzy nowhere.
The Beer Mystic grabbed a bicycle chain and rapped Cyril across the back and neck. This sent him staggering off. A little boy meekly pointed the way out as if he were afraid someone would later narc on him and cut off his traitorous finger.
They retreated and washed up at a leaky fire hydrant outside the projects. Repaired themselves under a dusk the color of blood drained from a large domestic animal. "Same's happened to me in Harlem. Same Blond Jesus shit. Happened to me in Nice and Sicily too — Jesus Biondo. Met my ex's family in Palermo and little boys, whole herds, followed me into the catacombs. Little girls reachin' out, touchin' my sleeve, runnin' fingers through my hair. In Harlem they made up a hopscotch ditty about me. 'Blond Jesus he's / he's asssss / white as ghosts / can be.' What's the word out or somethin'? Oh, Christ, I'm gonna vomit. Make life a big toilet. Uggggh!"
A minute later, he came to, stared at the Rum Seer, "The side o' yer face looks like an eggplant."
"It hurts. Listen, my life as a woman has seen much crap. Cuz the rituals that are installed to prove woman inferior have all come undone cuz in the desperate ingenuity to prove man's superiority lies their tautological failure. That don't mean I don't get hit and hurt. The fact of our being able to ignore yous at will is a kind of castration that causes your anxiety …"
"Not mine …"
"Anyway, it leads to yous expressing dominance via doomed-to-fail sadism."
And, as if on cue, a gang coagulated around their breathing room, looking like outtakes from a Fat Boys video. They had the word "ANDROGEN" carved into their forearms. They had long ago accepted the fact that their desperation could only be compensated by the old adage that the weapon makes the man.
The Rum Seer seemed properly primed to give out demerits for their atrocious sense of style. They (as in the 'they' of the sad conspiracy of possible and temporary somebodies) hovered and menaced like West Side Story extras.
"Yo. Blond Fag Jesus! DO somethin' for us!" The same kind of kids who could pluck legs from a cricket and watch it hobble around until it died as a means of disciplining the interloper, a way of establishing turf boundaries and psychic hegemony.
"Kinga the dirt pile. Kinga somethin'," she whispered from the side of her mouth.
"And yer Fag Hag there. Mary Mag there. What's SHE gonhn' do? Tag along on a leash? Fetcher bone? HaHaHa. What a fohckin' Bow Wow!"
"DO somethin' or we end up servin' her some REAL bone. The punk fohckin' bow wow!" They thought this would get him to throw some stupid fists. [The relationship between levels of testosterone, aggression, social unempowerment, sexual denigration, low self-esteem, anti-social … ]
"Yuh know, I ain't ever done much and I've had lotsa egg on my face but now it's time to fry some!" And the Beer Mystic, having rehearsed and honed his act in solitude and anonymity for all this time was just NOW being called upon to perform, to actually DO something for real.
He leaned over to the Rum Seer and mumbled; "I make myself impervious to hurt. Violence can't touch me. I've slept with no woman. Abstaining is like power – voodoo armor they call it – like the accumulating heat inside a bomb …"
The Beer Mystic calmly walked under the nearest streetlight. [Andrenergic innervation stimulates release of epinephrone into the blood stimulating localized sweating — hands, feet, forehead.] And in a moment of dramatic genius he stretched out his arms, raised them, then dropped them as if conducting an orchestra of light. Every second of silence was clothed in gooseflesh, every gesture suspended between 2 sighs. And POOF — out it went, the absolutely most important black eye of his life. He moved down to the next one and with the same bravura dipped in desperation, doused that one too. And then 3 more, like a Trinity of darkness, for good measure. And it was darkness, the dramatic arrival of it, that ultimately saved them.
"That be weird fohckin' shit!" declared one of the astonished.
"You be wid Con Ed?" another wanted to know. And The Beer Mystic and the Rum Seer walked unmolested to the "F" through a wasteland of abandoned sofas, torched motor vehicles, and cement stoops that led to nowhere.
Mid-hejira, the gang was still lingering around under the black eyes looking for sleight of hand or tools or whatever. "Yo! How you do that sly shit? You a freaky magician?"
"'All things in nature possess a particular power which manifests itself by special actions on other bodies.' said Franz Mesmer." The Beer Mystic turned to the Rum Seer. He could not tell her that Nielle had fed him this observation.
And they rode home with not a word between them — just stunned silence. Like drifting continents. Staring out the windows at nothing, darkness, their own reflections. ["… No sleep in the sky; nobody, nobody …" I read on the subway posters] She had managed up until now, this crafty and lyrical avoidance of definition. Her intangible skin refracted light the way a speeding bullet leaves its mark while obliterating its own identity. ["… No one lies sleeping …"]
The rattle and sway of the F, lulled them while the remainder of the ambient racket propped them up in a mesmerized state of hypnagogy — out and away from one another. ["… landscape of drought that he held on his knees …"] And she got off at her stop in her black get-up. As a vampirella in pristine squatter chic, she looked misshapen, distorted by the window glass or by the desperate hopes her loyalty to an already ridiculous style contained.
She didn't acknowledge his absence from her presence — or vice versa. She did not wave. She did not look back over her shoulder — any disappointment was fully his responsibility. She did not know him. Had never known him. And vice versa. ["… kisses that tether our mouths …"]
He continued on into his Manhattan to leave her as reigning queen of Brooklyn. He did not care.
He wrote on a wad of paper: If a human exposes his head to a magnetic field of specified frequency and strength he will see flashes of light and be capable of bringing its corollary darkness. Look up to see who said that. Further explanation: atoms from one surface — the light — have their electrons torn away like entire scraps of charged material exchanged between light and air. Like mind suspended in air because bioelectrical charges have been extracted from the synapses to saturate this air — a surge, in other words.
The Rum Seer and Beer Mystic never crossed paths again. Each disappearing into their own nurtured claims to darkness, a darkness that obliterates all in its embrace. [The subway billboard continued "… and a stillness of boats …" by Gabriel Garcia-Lorca, words used in the employ of the MTA.]
He missed his stop and he walked around and around until he was I.
(to be continued)
http://smokesignalsmag.com/OldIssue/bartconfession1.html #1
http://www.smokesignalsmag.com/2/beermystic.htm #2
http://smokesignalsmag.com/3/beer3.html #3
http://smokesignalsmag.com/4/wordpress/?page_id=27 #4
http://smokesignalsmag.com/7/?p=6 – #5
http://smokesignalsmag.com/7/?p=1344 – #6
http://smokesignalsmag.com/7/?p=2192 – #7
http://smokesignalsmag.com/7/?p=2295 – #8
http://smokesignalsmag.com/7/?p=2725 – #9
http://smokesignalsmag.com/7/?p=2783 – #10
http://smokesignalsmag.com/7/?p=2910 – #11
http://smokesignalsmag.com/7/?p=3008 – #12
http://smokesignalsmag.com/7/?p=3206 – #13
http://smokesignalsmag.com/7/?p=3363 – #14
http://smokesignalsmag.com/7/?p=3448 – #15
http://smokesignalsmag.com/7/?p=3505 – #16
http://smokesignalsmag.com/7/?p=3516 – #17
http://smokesignalsmag.com/7/?p=3550 – #18
http://smokesignalsmag.com/7/?p=3593 – #19
http://smokesignalsmag.com/7/?p=3604 – #20
http://smokesignalsmag.com/7/?p=3665 – #21
http://smokesignalsmag.com/7/?p=3676 – #22
http://smokesignalsmag.com/7/?p=3737 – #25
http://smokesignalsmag.com/7/?p=3752 – #26
http://smokesignalsmag.com/7/?p=3769 – #27
http://smokesignalsmag.com/7/?p=3782 – #28
http://smokesignalsmag.com/7/?p=3797 – #29
http://smokesignalsmag.com/7/?p=3804 – #30
http://smokesignalsmag.com/7/?p=3819 – #31
http://smokesignalsmag.com/7/?p=3829 – #32
http://smokesignalsmag.com/7/?p=3838 – #33
How to become a Beer Mystic – by Mike Golden
http://smokesignalsmag.com/7/?p=653
Bart Plantenga – is the world's foremost Beer Mystic and authority on yodel-ay-ee-hoo!
http://www.bartplantenga.com/
Sharon Mesmer interviews the old Beer Mystic @ http://www.brooklynrail.org/2011/10/books/beer-is-two-subway-stops-away-from-mysticism
WRECK THIS MESS
Confessions Of A Beer Mystic by Bart Plantenga