WHY AREN'T YOU LAUGHING?
Michael Simmons on
THE ONE, THE ONLY, BUDGE THRELKELD
Funny man Budge Threlkeld's death in 2005 was heartbreaking but historically appropriate. Few could match his charisma, innate kindness, and epic wit. He could endear himself to Republican tourists at a Disney World comedy club as effortlessly as if they were a gang of stoned malcontents in a smoke-filled basement in New York City.
more...
Listen to Al Franken's Personal Reminiscence of Budge
Michael Sullivan's
The Sex Life of Robots
As irony would have it, our long time friend, comic shaman & mentor Tuli Kupferberg was 86ed @86 in the summer of 2010 after suffering a series of strokes the year before, at approximately the same time his classic Fugs CIA Man closed (and made) the Coen brothers wild screwball comedy Burn After Reading. Fortunately for all of us who loved him, the co-founding Fug left behind a large body of work and inspiration. "Don't ever leave your glue stick at home," he used to tell me as we walked the city streets. "There's work to be done."
Columns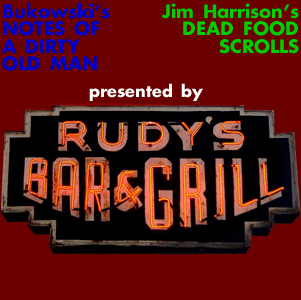 Bukowski's NOTES OF A DIRTY OLD MAN #5
I was out there again today. There are some creatures out there, How they manage to keep going out there is a mystery. They are losers. more... »
Jim Harrison's THE DEAD FOOD SCROLLS #5
One wonders, doesn't one, why historically we are insufficiently wily in foreign affairs. Without question it is because we do not eat vividly. more... »
Mike Golden's APOCALYPSE WHEN?
He would always notice the spiderwebs."We're smoking them now," he cackled. Which was when I realized the right half of my body was totally paralyzed. "Mine too," he whispered. more... »
WHOSE CONSPIRACY IS THIS, ANYWAY?
Oliver Stone, Lisa Pease and James Douglass
CLUB 86'ed Presents
Mikhail Horowitz & Gilles Malkine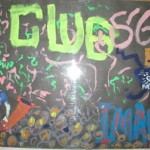 I went down to the Saint James Wellness Facilty
To see if my baby could be cured
She was laid out cold on a gurney
So sad, so sweet, so uninsured
Let her go, Let her go, can afford it more... »


Jane King's NURSE JANE
Two years ago I went to the hospital to visit a sick friend who just so happens to edit this mag, only to find he was being tortured by a sadistic nurse. At the time I had already developed an elaborate theory about nursing as an apt profession for sadists, so I put the booga-booga on the booga-booga she had put on my friend more... »
The Further Adventures of Bart Plantenga's

Confessions of a Beer Mystic

Aye, let there be witnesses to the rise & fall of human dignity crawling around on the floor and puking its depraved guts out on our very feet. If you have to ask what's on the menu, we can't serve you »
Rudy Wurlitzer's The Drop Edge Of Yonder
The Captain and the Portuguese crew were afraid to set foot on land, convinced that the entire West Coast had been seized by a biblical conflagration; a disaster brought on, they had no doubt, by the godless scum of the earth »


Bob Zmuda's Mr X Chronicles #1
I believe that Mr. X is still alive, and even now, more than twenty-five years later, I continue to be terrified of him. If I were to use his real name he might come after me. »


The Buddhist Third Class Junkmail Oracle
Who killed d.a. levy? The last poet in America put of trial for the language of his art »


Foamola has been described as "the best band since the Crimean War" by the Milwaukee Courier-Dispatcher. Since 1990, their frequent melodies have cheered the Lower East Side, and occasionally Soho.



Max Blagg Gap commercial
---
Leave a Reply
DARIUS JAMES
DR. SNAKESKIN SPEAKS
What's Happening In:
Little Rock -
Arkansas Times
Buffalo -
Artvoice
Athens, OH
The Athens NEWS
Austin, TX -
Austin Chronicle
Baltimore -
Baltimore City Paper
Birmingham -
Birmingham Weekly
Black & White
Boise
Boise Weekly
Boston
Boston Phoenix
Boston's Weekly Dig
Boulder -
Boulder Weekly
Charlottsville, VA -
C-Ville Weekly
Chicago
Chicago Newcity
Chicago Reader
Chico
Chico News & Review
Cincinnati -
Cincinnati CityBeat
Rochester -
City Newspaper
Minneapolis -
City Pages (Twin Cities)
Lansing -
City Pulse
Des Moines -
Cityview
Halifax, NS -
The Coast
Colorado Springs -
Colorado Springs Independent
Columbia, SC -
Columbia Free Times
Atlanta -
Creative Loafing (Atlanta)
Charlotte, NC -
Creative Loafing (Charlotte)
Sarasota, FL -
Creative Loafing (Sarasota)
Tampa, FL -
Creative Loafing (Tampa)
Dallas -
Dallas Observer
Dayton -
Dayton City Paper
Oakland -
East Bay Express
Hermosa Beach, CA -
Easy Reader
Eugene, OR -
Eugene Weekly
New Haven -
Fairfield County Weekly
Calgary, AB -
Fast Forward Weekly
Athens, GA -
Flagpole Magazine
Jacksonville, FL -
Folio Weekly
Fort Worth, TX -
Fort Worth Weekly
New Orleans -
Gambit
Vancouver, BC -
The Georgia Straight
Hartford, CT -
Hartford Advocate
Honolulu -
Honolulu Weekly
Houston -
Houston Press
Springfield, IL -
Illinois Times
Durham, NC -
Independent Weekly (NC)
Corona, CA -
Inland Empire Weekly
Madison, WI -
Isthmus
Ithica, NY -
Ithaca Times
Jackson, MS -
Jackson Free Press
Los Angeles -
L.A. Weekly
Las Vegas -
Las Vegas CityLife
Las Vegas Weekly
Louisville, KY -
LEO Weekly
Long Island, NY -
Long Island Press
Maui, HI -
Maui Time Weekly
Memphis -
The Memphis Flyer
Knoxville -
Metro Pulse
San Jose -
Metroactive
WAA!!
WHAT AN ASSHOLE!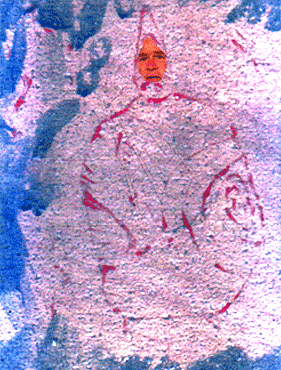 painting collage of UBU, THE DECIDER by aka
Fred Wistow introduces Malcolm Gladwell
Coming soon
Marlaine Glicksman
Interviews
ROBERT FRANK

Robert Frank first hit the road when he emigrated from his native Switzerland to New York in 1950 as a fashion photographer. In 1955, he traveled the American asphalt as a Guggenheim fellow for photography, and the resulting book of stills, The Americans, published in 1958, gained him both fame and infamy....
more coming...

Victor Harwood
Interviews
REGIS DEBRAY

Four days after the death of the mythic Argentine revolutionary figure Che Guevara, Régis Debray, a French journalist in his twenties, sat in a Camiri, Bolivia jail sentenced to 50 years for attempting the revolutionary overthrow of the Bolivian government... more coming...



1965 collage by d.a. levy


Before you leave...


visit Lally's Alley
for daily updates