Bart Plantenga's
Confessions of a Beer Mystic #8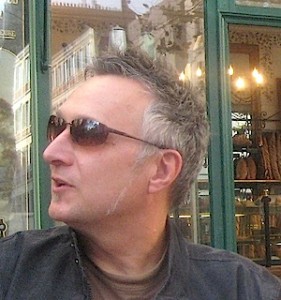 On the way home I got tired just looking at all the autumn leaves still clinging to the trees, cluttering the streets. I'm at the end of some kind of rope. Oh yea, with a new job a new sense of hope — sure. When you know too much (or act like you do) you end up knowing you know next to nothing. Sophistication hides this fact; an evolution in which you become the third person singular of yourself — a state of misapprehended limbo.
Me and Lee arrived separately at Tin Pan Alley after my last day of work after 3 years as a foot messenger to celebrate my migration from one incarceration to another.
"This is lateral movement, man. No yards gained. I'm gonna die at Cosmo withoutcha." Lee lamented.
"I see it as diagonal."
"You oughta be lookin' up vertical."
"I look up too long I get dizzy, bump into buildings."
"We gotta stay in touch." Lee was insistent and although he bought all the beers we never did keep in touch. There is something in the way we all get bounced around the city which keeps us from staying in touch with one another.
My new job I got through a friend who acted like he didn't know me when he chose me over 3 other candidates for the job of assistant manager of Codger Office Supply Inc. Robert was the manager and he managed me. I was the assistant manager and I managed no one. At $6.01 per hour and a title I was making $.24 per hour more than as a foot messenger. Plus I could get my teeth cleaned and my colon vacuumed.
As I entered my building I heard the old ladies whisper "There's always strangers on these stars," in English, not their native Ukrainian. Polish? Hungarian? Just loud enough for me to hear. Like the hiss of a radiator or moan of a patient in Intensive Care, tearing me away from Celine: "The people you meet are so loaded with cries that you feel embarrassed on their account." Celine protecting me from out there. Like a patch kit for the spirit.
Maybe they had said "stairs," but I distinctly heard "stars." It's just more gossip gone cosmic. Their faces like sour socks on a frayed clothesline while their belladonna dresses blend into the drab wallpaper like moths pinned against velvet in a dusty museum display. This wallpaper, by the way, is expected to hold the crumbling plaster back. That's what they all say. Thus far it has succeeded — this is, by the way, the state of many minds — I mean THINGS!
These old ladies don't apologize for nothing, not for their cats throwing up in the hall, nothing! I mean it's old, but this doesn't make the puke any more palatable. At first, the glob looked like shoestrings dunked in a tomatoey glue. Goo, whatever. Or tapeworm in a bloody clot. I don't know, I'm not a scientist. Although I had plenty of time to makeup my mind. It took the super 3 weeks to "find it" and clean it up. And you can't or don't dare blame him! I'm amazed I can no longer even muster surprise at these blatant acts of terror — the contempt, the silence, the gossip, the puke, the piss.
When I say "hello" on the stairs they look at me like I just said "I want to suck the wax from your Old World ears." I don't! I really don't!
And one day these ladies, these muttering beehives, in their sour housedresses, knitting needles in their fists, decided to blame me for the hall light on the blink. As if life were a series of incidents that needed to be blamed on someone. As if everything in their lives was OK until I moved in. As if all the world's Diasporas could be traced back to me. But I knew what they were up to. I knew they coveted my/our apartment for their kin. They saw me as an invader, painted me as an illegal subtenant. Made complaints to the super.
If ever there was to be another military draft, they'd make sure my number came up first. They and their diabolical coup d'eTaTa! I make the sign of the cross with my swollen forefingers. But I get it all wrong. I hiss at them the way Christopher Lee might from behind his fangs. But they are the vampires who leave their ugly bruised clumps of rotting Ukrainian tuber on my Smilie Welcome Mat. Even the welcome mat is an affront to some of them.
One guy (apt #4?), brain-dead from toenail to dorsal fin, one day asks, "What's He got to smile about?" nodding down at my mat with his high flat forehead, so flat I suspect he was made to wear a church pew tied to his forehead in his youth. "People's always steppin' on his face."
"Cuz he's a beerocratic Buddhist." I say. I'm wise but none too smart. Because now he shoves small clips of stale paper with tortured ballpoint block letters indented deep and resolutely into the paper's fabric stating such "faxts" as: MAN IS MAID IN THE IMAGE OF G_D, TO HALF DOMINION OVER THE REST OF CREATON. (GEN. 1:26)
"And if mankind stinks this way, it's meant for us to notice!" He intones. I press my Celine against the back of my door, over the peephole to protect me during this day of fretful (thus far) beerlessness. TSSSH! — the sound of beery disburdenment. I am "home," a diminished and anti-climactic tale of swollen feet and hard knots of muscle.
I soak in a tub of hot salty water (I have discovered that there is hot water to be found between 5:30 and 7). I know I am in glorious shape because my body aches at every juncture of cartilage and bone. At the warehouse today, I made 8 neat stacks of 10 50-LB cartons of copier paper. I'm proud of my accomplishment and this irritates me. I can't even bribe myself to switch TV channels. The zapper don't work. I can't turn up the volume to blot out out there! My body burps instead of breathes. A second beer as a third person singular in a fourth world generic-plural.
It's so humid in here that Djuna's hair (which is always every-fuckin-where) sticks to my torso as I go naked dripping to turn up the sound — noise fighting off noise. I feel primitive in this coat of fur.
The difference between me now and me back then, before all this streetlight stuff, is simple: I used to be on people's HIT lists and now I'm on people's shit lists. I mean, this is what they mean by the incremental crawl of self-esteem. I'll be totally rehabilitated come the Millennium. Guest list to the funeral will happen next, I suppose.
Talking to TV used to make a difference like I was the co-host on every talk show. But now I just clam up, go blank because lately the true nature of our relationship has become all too clear. It's not intimate by a long shot. Not give and take. Not I-play-your-knobs-you-play-mine. No, it's all one way. It never takes MY advice. They don't give a shit and they never stop laughing. They have more money than me which ultimately makes them more able to afford a more truthful truth.
Me and Djuna kicked in the TV one night. OK, BAM! BAM! — like that. Sanity should always be this kind of instantaneous craziness; a craziness which will seem inspirational if framed in the appropriate manner. It's a kick that takes your breath away and always should. Sanity should be appliances that work for, not against, you. But instead, even kicking in the TV becomes a second-hand gesture, like something off TV. Like a movie about the evil of TV I saw on TV.
By week's end, Djuna had acquired an old set from an old ex. Destruction is just a moment of temporary heroic insanity, a spectacularly photogenic instant to fully document but not actually live in. Someone eventually translates it into politics or lifestyle or biographical gunpowder anyway.
Everything lingers, chooses its own time to mock me. The confusion began with lights, streetlights mainly, doing the ole "black eye" — THAT'S MY NAME FOR IT — snuffed, give or take, at the rate of one a night!
And eventually we drape an explanation over our confusions. So I began to see that these strings of black pearls — let me call them constellations of black holes — could guide me through my crepuscular sojourns. But things still conspire to confound, to become utterly autonomous — where's the ON-OFF!? Where's the caption under all this that will explain it away? The ferocity of things and mysteries banging into each other escalates because it escalates. It's physics. I'm sure. Or hyperphysics or macro-chaos or … like the inside of a bomb. Like an avalanche. Or "alcoolisme." And the Mona Lisa is, by now, merely famous for being famous. And I'm drunk for drinking …
to be continued –
Confessions Of A Beer Mystic by Bart Plantenga
http://smokesignalsmag.com/OldIssue/bartconfession1.html #1
http://www.smokesignalsmag.com/2/beermystic.htm #2
http://smokesignalsmag.com/3/beer3.html #3
http://smokesignalsmag.com/4/wordpress/?page_id=27 #4
http://smokesignalsmag.com/7/?p=6 – #5
http://smokesignalsmag.com/7/?p=1344 – #6
http://smokesignalsmag.com/7/?p=2192 – #7
How to become a Beer Mystic – by Mike Golden
http://smokesignalsmag.com/7/?p=653