FUG YOU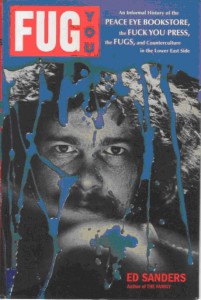 One evening just as we were getting ready to perform at the Astor Place Playhouse, I learned that an assistant district attorney was in the audience. I vowed not to alter the show a whit, and we didn't. Soon thereafter the district attorney's office filtered the word to us that it had decided against pressing charges.
"The current drive against the avant garde arts, against the consciousness-sexpanding drugs, the clean-up of Greenwich Village and 42d Street, and many, many other cases can be explained only as a desperate gathering of evil or sick forces to delay the development of man," Jonas Mekas, film critic and filmmaker said in a statement adopted by the committee yesterday at a press conference in the Bridge Theater at 2 St. Mark's Place.
The group charged that The Fugs, a politically oriented rock 'n' roll singing group, was being harassed by the License Department. According to the committee, personnel of the License Department had warned the owner of the Astor Place Playhouse, where The Fugs have been performing, that unless the group "toned down" its show, the license for the theater would be revoked. As a result, the committee said, the owner, Mrs. Muriel Morse, has shut off the box office telephone. Mrs. Morse could not be reached for comment, but the telephone is "temporarily disconnected."
Assistant License Commissioner Walter Kirshenbaum "categorically" denied the charges yesterday. And Ed Sanders, leader of The Fugs, said he believed "the pressure is off." In fact, Mr. Sanders said that his group burned an American flag at a performance last Saturday night and that nothing had happened as a result.
Before we were tossed out of the Astor Place Playhouse, we had time to appear in Conrad Rooks's film Chappaqua, for which we performed some songs. Robert Frank was the cinematographer. I recall groveling on the stage of Astor Place while Paula Prentice in long leather boots stomped on mock LSD-suffused sugar cubes.
For the rest of the decade and beyond it loomed above our lives like the ancient curse of Agamemnon—those B-52s above the North.
The New York City Department of Licenses
In the April 28 Village Voice Stephanie Harrington wrote an investigative piece titled "City's Censorship Role Is Being Questioned." The New York City Department of Licenses, "because of its zealousness," she wrote, "may be in the process of putting itself out of business as the . . . censor of the avant garde." Artists and theaters and coffee shops had raised their voices against these overzealous censors.
The Department of Licenses had issued summonses to the 41st Street Theater, where the Film-Makers' Cinematheque had shown films, because the films displayed "sexual immorality, lewdness, perversity, and homosexuality." The license creeps had issued summonses to the Bridge Theater with respect to a program in which an American flag had been burned to protest Johnson's unexpected increase in troops and in bombing of the north in the war in Vietnam.
The license officials had issued summonses to a member of the Artists and Writers Protest Committee for putatively operating a dance hall and selling liquor without a license at an anti–Vietnam War party. Artist Leon Golub was one of the organizers of the committee. The Department of Licenses raided the party.
The New York chapter of the American Civil Liberties Union, which had agreed already to handle my Peace Eye raid case, was considering suing in court over the License Department's authority to ooze into a theater, sit in seats, look at the films, performances, plays, etc., being shown, then on its own decide to revoke the theater's license or refuse to renew the license. (It will be recalled that an ex-CIA agent, working for the Department of Licenses, had testified against Lenny Bruce in the Cafe Au Go Go case back in 1964.) As Stephanie Harrington accurately reported, "Private parties at which liquor is served with the hope that the guests will make donations are a common method of fund-raising among church groups and political candidates." I recall a LeRoi Jones rent party I had once attended that had plenty of booze, wild dancing, pot, and gluts of Fun.
Mayor Lindsay requested the department's commissioner, Joel Tyler, to meet on May 4 with members of the New York Eternal Committee for Conservation of Freedom in the Arts, whose steering group included Allen Ginsberg and Jonas Mekas. It took a fresh young mayor ultimately to call off the hounds of the License Department.
The Ghastly Attention of the FBI and the Justice Department Meanwhile, the popularity of The Fugs brought us the attention of federal law enforcement. A few weeks after The Fugs Second Album was released, there was an investigation of The Fugs by the FBI and the U.S. Department of Justice, which I learned about years later when I obtained part of my files under the Freedom of Information Act.
Someone at a radio or television station wrote an indignant letter to the New York City district attorney. The letter contended that The Fugs Second Album was pornographic. The letter of complaint was forwarded to the U.S.
attorney, who, in turn, sent it on to the FBI. Of course, in those years the FBI was known to write letters to itself, or set up such letters, to justify investigations of American activists.
In the early summer a DOJ memorandum stated that a postal inspector had finished an investigation: "He advised The Fugs is a group of musicians who perform in NYC. They are considered to be beatniks and free thinkers, i.e., free love, free use of narcotics, etc. . . . It is recommended that this case be placed in a closed status since the recording is not considered to be obscene." I felt a surge of patriotism when I read this memo years later among the documents turned over as a result of a Freedom of Information request. Plus this! If we'd only known about this letter, we could have put a sticky label on the record: "Ruled NOT obscene by the United States Government and the Postal Service!
A Trip to Gloucester to See Charles Olson
In late spring, in a rickety old green Ford station wagon, writer George Kimball drove me, Panna Grady, and English poet George MacBeth to Gloucester, Massachusetts, to hang out with Charles Olson. I'm pretty sure it was the first meeting between Olson and Grady, and it rekindled my cunning scheme, hatched the previous year, for her to help the genius of Gloucester, whose financial status was always on the edge, especially since he had left his professorship at Buffalo.
I brought a gift to Olson of a French edition of Hesiod's Theogony, with the original Greek helped by a French crib. It was the edition into which I had handwritten the "Out of the Foam, O Aphrodite" section of "Virgin Forest" on the second album.
Olson was glad to see us, recounting a recent visit by Tim Leary (who had given him a vial of pure LSD). We had dinner at the best place in town, called the Tavern, followed by a long walk on the beach by the harbor. I'm not totally certain this initial meeting between Panna Grady and Charles Olson had anything to do with it, but Grady rented a fancy stone house in Gloucester, where she spent the summer and early fall with her daughter. She had an affair with poet John Wieners that year but broke it off, and she and Charles Olson would travel to England together in the late fall.
June 12 at Town Hall
A young fan named Henry Abramson put up money for The Fugs to "move uptown" to a concert at Town Hall! The Town Hall gig came along at a miracle moment for us. We were without a theater, having been tossed from the Astor Place Playhouse. I used the $1,500 concert fee from Town Hall to rent the Players Theatre on MacDougal Street, and we soon began a long, long run.
Robert Shelton reviewed the Town Hall concert in the New York Times. To my enormous relief, given his stature among writers on current music, Shelton liked the show! Among his comments: The Fugs might be considered the musical children of Lenny Bruce, the angry satirist. Their music, while growing in capability, is secondary to their lyrics, patter and antics. Complete personal freedom, whether in sex or in drug experiences, seems to be one of the Fugs' ensigns. Two songs, including "Turn On, Tune In and Drop Out," were dedicated to Dr. Timothy Leary, the researcher in use of psychedelic drugs. "Kill for Peace" lambasted the United States policy in Vietnam. While obviously far out by most accepted standards of popular music, the Fugs are clever, biting and effective satirists. In settings of poems by William Blake and Charles Olson, they showed a gentler nature. While not for every taste, the group can be commended for its originality, courage and wit.
The Players Theatre
Located at 115 MacDougal, the Players Theatre was owned by a gentleman named Donald Goldman, who did not seem to mind our rough language and wild stage antics. His theater manager, on the other hand, was an ex-army guy named Howard Dwyer, who didn't like the word "fuck." In fact his face went red at it, and although all other words were okay, he seethed at the use of fuck in our routines. Thank goodness theater owner Goldman was more worldly and didn't care about our language. Whew. The Café Wha was located in the basement, and there were oodles of Greenwich Village sidewalk traffic, so our shows started selling out when we opened in July. Our run there during 1966 and 1967 lasted over seven hundred performances. During the summer and fall we did three shows a night on the weekends—8:00, 10:00, and midnight. The theater was filled, and the shows were fluid, well done, and hot. It was the peak time for The Fugs.
A Patriotic Flavor
We always struck a theme of patriotism. Examples are our red, white, and blue logo and our ad in the Village Voice for our run at the Players Theatre. Pete Kearney left the band, and during that first summer at the Players Theatre Jon Kalb, brother of Dan Kalb of the Blues Project, was our excellent lead guitarist. And so the summer of '66 Fugs included Sanders, Kupferberg, Ken Weaver, Jon Kalb, Vincent Leary, and Lee Crabtree. We were joined at various points in our run at the Players Theatre by Jake Jacobs, a fine arranger and singer. For a while we hired a vocal coach, Bruce Langhorne, reputed to be the inspiration for Dylan's "Mr. Tambourine Man."
With our second album on the charts and our shows sold out, we were treated to the eerie sensation of sudden fame. Though I lived in an apartment in a slum building, fans located it and hovered outside near the incredibly dingy ash cans and their squashed lids connected by chains to the cans.
Famous people began to watch our shows at the Players Theatre, and we were thrilled to shake the hands of stars such as Richard Burton, Peter O'Toole, Tennessee Williams, and Leonard Bernstein in quick backstage visits. To Kim Novak we gave a Fugs T-shirt, hoping she might pop it on.
The Fugs' Renown Among the Literati
In addition to renowned guests such as Kim Novak, "New York Intellectuals,"including those associated with the New York Review of Books, began to appear at Fugs shows at the Players Theatre that summer. Elizabeth Hardwick actually wrote a good review of the show, which we cherished. Novelist Philip Roth also came to a show on an evening that Tuli sang "Jack Off Blues," which always brought an explosive round of applause from the audience. It was around then that Roth began Portnoy's Complaint, which was published in 1969. A lingering question is this: Was Portnoy's Complaint inspired by the "Jack Off Blues" lyrics?
Could there have been royalties for Tuli? Probably not. Shakespeare did not have to give credit, and certainly no bread, for plundering histories of Denmark when writing Hamlet.
Elizabeth Hardwick, I'm afraid, captured my Entity of 1966 in an essay published in the December 15 New York Review of Books. "What we might have hoped for," she wrote, was the mad anarchistic pantomime of The Fugs, of Tuli Kupferberg in "Kill for Peace." Looking like some obscene Yeshiva student, he has a catatonic relaxation that does more in one pornographic slump than all the agit-prop frenzy of Viet Rock. The Fugs are neither art nor theater, but noise ("total assault") and Free Speech. Still they make all sorts of popular entertainment obsolete. After "Coca Cola Douche" it is not the easiest thing in the world to sit through the first act of The Apple Tree and watch Barbara Harris and Alan Arkin in the Garden of Eden, trying to "evolve" a word for love. The Fugs are soft, liberal exhorters to "Group Grope." There is a schizophrenic sweetness and dirtiness about them and the leader of the group, Ed Sanders, is a dismayingly archetypal American. If he weren't "groping for peace," he would have been in the Twenties an atheist, in the Thirties a Trotskyite. But he is an actor, possessed of a subversive energy that does not come forth on records and certainly not in his books of verses, or whatever you might call these "lyrics." In person he is a new, indefinable image. (Kupferberg is a more accomplished actor, but he is not the prime spirit of this group, a group whose purpose is far from evident.) Ed Sanders in dirty black cotton pants, a horrible white plastic vest, dirty red scarf, matted hair, holding a mike with a cord, is some sort of parody of all the MC's of history. He looks like James Jones, or a foul Bob Hope. Neither he nor his "slum goddess of the lower east side" is aphrodisiac, but they are wildly funny because he and his songs have trapped the infantilism of smutty little boys. To be clean and well-dressed and concerned about homosexuality or four-letter words: that is the real madness. It is not free sex, but free speech they celebrate: dirty words, dirty feet, laughter. The Fugs are ideologues of some kind, not orgiasts; their ideas are few and simple, and all of them are pacific. The young couples in the audience, soiled, long-haired, were strangely soft and domesticated also, as if they had some parody nest, with a few pans, a few drugs, and then, all smudged and sweaty, tucked themselves into a passive sleep. Still there is something final about The Fugs. It is hard to see how Alan Jay Lerner can carry on after "My Baby Done Left Me and I Feel Like Homemade Shit."
Adapted with permission from Fug You: An Informal History of the Peace Eye Bookstore, the Fuck You Press, the Fugs, and Counterculture in the Lower East Sideby Ed Sanders (Da Capo Press, 2012).
The Fugs performing at LEGALIZE LEVY benefit May 14, 1967 –
http://flash.ulib.csuohio.edu/cmp/levy/fugs.html