an excerpt from John Goodman's MINGUS SPEAKS
Avant-Garde and Tradition
Photograph by Robert Frank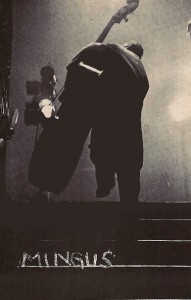 As a writer for Playboy, John F. Goodman reviewed Mingus's comeback concert in 1972 and went on to achieve an intimacy with the composer that brings a relaxed and candid tone to the ensuing interviews. Much of what Mingus shares shows him in a new light: his personality, his passions and sense of humor, and his thoughts on music. The conversations are wide-ranging, shedding fresh light on important milestones in Mingus's life such as the publication of his memoir, Beneath the Underdog, the famous Tijuana episodes, his relationships, and the jazz business.