Maureen Owen's
ON A POEM ABOUT ELVIS PRESLEY
but for Ted Berrigan who understands momentum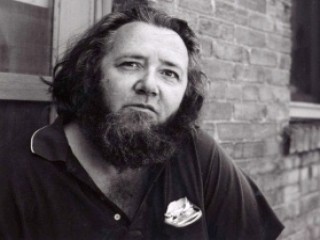 I thought she said "There's a bullet hole in my skull the size of Detroit"
He got older but what he really lost was the energy of life
he had this energy        then he lost it because what happens
is you start to see the outcome        see where it's all headed
& then you do        So you don't want to go there anymore but
there's already nowhere else to go        so Fuck it is all you
can think        &it stops making any sense then & confusion
sets in & you don't want to lose everything you've worked
your ass off for        but there's no real reason to try to
maintain it either        Then you start getting fat which
he did        &then drugged out when he was falling apart  &
everybody was crying  &nbsp they wanted to believe it was worth it
they wanted to see him keep going & become something new
& just as great as he used to be        He was too desperate
it showed        He couldn't keep doing what he'd done
because of change       change had happened & he wasn't the
same & neither was anything else         The specific chemistry
of time & event had passed                He'd passed the intersection
this had nothing to do with age   it could happen at any age
there's all your life & then there's this intersection   &
you don't even know at the time exactly when or where it is
but when it's over you know that was it   & then it's gone
But you can't really stop because what you do is what you do
& you have to keep doing it. . .
Maureen Owen –
http://www.thing.net/~grist/ld/owen/owen.htm